Just when you thought your kiddos were officially over all things "How to Train Your Dragon" the folks at Spin Master are about to release a brand new flying Toothless dragon. We. Are. Here. For. It.
* Note this is a prototype rendering image. See the gif below for more accurate representation.
If you remember the popularity of Owleez from last Christmas, Spin Master has utilized that really cool technology for your kids favorite Toothless toy to help let it fly all around your home. Here are all the details on exactly what you need to know.
What is the Flying Toothless Dragon All About?!
The Toothless Dragon from the latest popular "How to Train Your Dragon" movie was all the rage last holiday season when he would actually hatch from its shell just like your favorite Hatchimals would. This year, his prototype debuted at the 2023 NY Toy Fair where they've given him some pretty sweet flying technology where, yes, you can actually teach him to fly!
Flying Toothless has a lot of different sensors built-in that'll help you love on him, care for him and, eventually, get him ready to take flight. His eyes can change into a bunch of different colors that'll help you know exactly how he's feeling. Care and love him enough and he'll be ready to fly. Your kiddos will actually pick him (including his nest of sorts) and use their arms to move him up and down over and over again. When he's ready his neck will start to grow, you'll see his wings (aka fan-like wings) start to spin and suddenly he'll take off! He'll fly all around and, due to his sensors, he can even land back on your hand!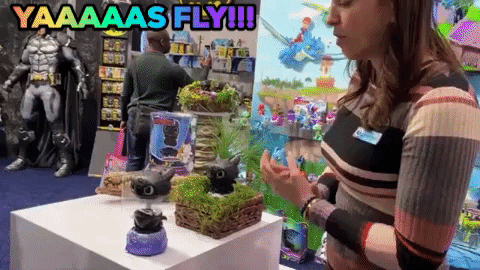 Flying Toothless even comes with his little fish pal that you can "feed" to him and interact with him even more! This is all such a great way for kids to learn responsibility, patience, teaching skills, and so much more. We're pretty sure this will make our Ultimate Toy Picks for 2023. Time will tell!
What's This Going to Cost Us?
This one isn't going to overly break the bank, especially when it comes to interactive toys. Currently the suggested retail price is $49.99.
When is the Official Release Date & Pre Order?
We still have some time on our hands, but we can expect to see him on store shelves and online in the Fall. Most likely, pre order will happen 1 to 2 months beforehand. Check here for current pre order availability.
The New Flying Toothless Dragon – Coming Soon