There's a new baby doll in town just in time for Christmas and she's Luvabella's little sister. Introducing Spin Master's Luvabella Newborns. They're too cute for words. Here's everything we know so far!
She was one of the top selling toys two years ago and now now Spin Master has announced they're releasing a brand new version of Luvabella called Luvabella Newborns. You've guessed it, they were just born! These adorable and, frankly, less scary looking than the original, is much softer this time around, has softer and cuter facial expressions, is smaller since she's a newborn, and this time around she can do even more amazing things. Here's some things just to name a few:
You can tickle her and she'll laugh and even say "Wheee!"
Feed her her tiny little bottle when she's hungry and she'll keep moving her super realistic looking mouth.
Rub her back and burp her after a feeding.
Help her fall asleep by giving her the pacifier and gently rocking her to sleep.
Speaking of sleeping, when she finally does fall asleep you'll actually see her cute little tummy go up and down just like she's actually breathing!
When is the Release Date?
The fine folks at Spin Master announced this little newborn officially being released on July 12, 2019.
What are the Pre Order Dates?
Good news! You can snag this little cutie right now! Pre-order is officially open!
What's This Going to Cost Me?
Similar to the older version, this new Luvabella Newborn baby doll has a suggested retail price of $59.99.
The New Luvabella Newborn Baby Sister – Buy It Here
---
Shop on Amazon
---
Original Luvabella review from its debut in 2017 below.
Who's ready to get trampled for what's being called the hottest and must-have toy for Christmas? If you screamed, "Me! Me! Me!" well you're in luck. Luvabella is here! People are going all kinds of crazy over the new Luvabella baby doll that's for both girls and boys. Yeah we said boys, deal with it. There's even a boy "Luvabeau" doll added to their collection. Read on!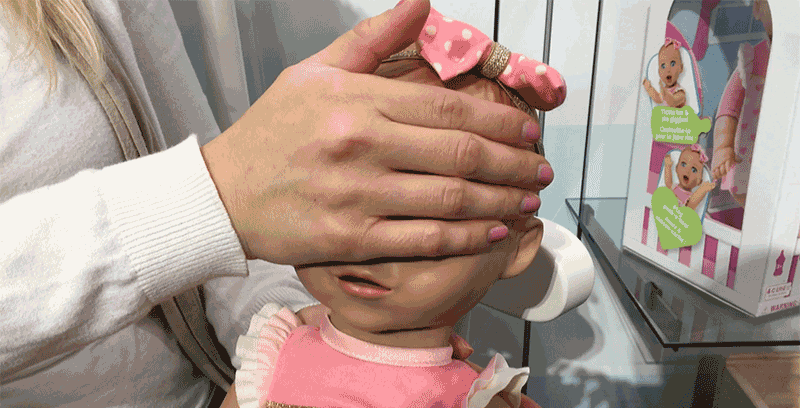 Luvabella hasn't even been released to the public yet (at the time this article was written) and it's already blowing up the internet. Take that Kim Kardashian! So you're probably wondering what all the fuss is about. And is she worth the hefty price of $99? And does she actually do anything cool? Well, here's the deal. She's the doll that's been created by the same folks (Spinmaster) who invented the Hatchimal last year (uh, remember that insanity?). Luvabella is a totally interactive and responsive doll that your kids can really take care of and she'll, in turn, turn on some of her Luvabella-like loving.
You'll be able to choose the doll that's a good fit for your child. That's right, that means all the Luvabella dolls aren't just white. "Hooray!" said everyone in the world except most of the doll manufacturers. Currently there's a blonde doll, one that's brunette, an African American Luvabella, and a boy doll named Luvabeau (He's her brother!). Get them all and have them totally overtake your entire household. It'll be like a Luvabella army of sorts. Regardless of which doll you choose, here's some cool/scary things that Luva the Bella (as we sometimes call her) can do:
She has very realistic facial expressions, laughs, and giggles. Rumor has it that she was designed by a master puppeteer so that her face moves the way real baby face would (creepy and awesome all at the same time).
Luvabella has over 100 words and phrases she can say and, apparently, she can learn more as she grows and is taken care of by your kiddos. According to Spinmaster, she actually has 500 different responses she can give. Pretty neat we say!
She comes with 4 interactive accessories like a spoon, bottle, pacifier, and cute little toy lamb.
You can feed her with the spoon when she's hungry, soothe her, and put her to sleep. Don't forget to burp her because, yes, she can do that too.
When you play with her, she'll interact by moving her head and lifting up her arms (let's just hope she can't walk and scare you in your sleep).
Hold the little lamb up to Luvabella's nose and she'll kiss it and interact with it in a variety of sweet ways.
She'll giggle when you tickle her toes or her belly and you can even play peek-a-boo with her.
When it's time for bed, simply give her a bottle or pacifier and she'll slowly drift off to sleep as you rock her. Once she's sleeping you can hold her up to your ear and listen to her heartbeat. Insanity, we say!
Watch a Demo of How to Play with and Take Care of Luvabella Here:
A common question people have is what's the appropriate age for Luvabella and is it for boys too? They claim Luvabella and Luvabeau are for ages 4 and up. And of course this doll is for boys too and you don't have to just buy him the boy doll, Luvabeau. Boys like to play with girl dolls too. Welcome to not 1955. Who even cares? Get them what they want!
Some additional things to note, these dolls require 4 C-batteries, which aren't included so for the love of all things that are good, please buy them so that your kid isn't devastated when they open her up and she doesn't work. Oh, and her dress, shorts, and bow are all removable so feel free to wash them when your kid spills so much stuff all over her.
And according to the folks at Spinmaster here's why they're psyched about Luvabella:
"We've taken classic doll play to a whole new level, allowing children to fully immerse themselves in the imaginative world of nurturing. Most baby dolls can do one thing, while Luvabella has hundreds of unique lifelike responses, making her irresistible to everyone who has experienced her realism and interactivity first hand…it's beautiful to see."
More Toy Fun: The 40+ Hottest Must-Have New Toys For Christmas 2023
So is that enough for ya? Hey, at least she doesn't hatch out of a shell this year, am I right? For real though, get this doll if and when you can. It's going to be impossible to find the closer you get to Christmas and then you'll find yourself taking out a second mortgage on your home to pay that creep on Craigslist who's selling Luvabella for $1,500. You know the ones.
There are also a bunch of Luvabella's on eBay that you can check out here, but just make sure you buy them from a seller that has high ratings.
1. Luvabella Blonde Doll with Interactive Accessories – Buy It Here
---
2. Luvabella Black African American Baby Doll – Buy It Here
---

Widget not in any sidebars

---
3. The Brunette Luvabella – Buy It Here
---
4. The New Luvabeau Boy Doll – Buy It Here
---
More Gift Ideas:
All the Christmas Gifts You Need for the 2023 Season
What to Get Your Kids For Christmas (or Any Time of Year)
Popular Gifts for the Tweens & Teens in Your Life
Fingerlings Monkeys are Here and We Love Them