If your kiddos love a super colorful doll who can actually 'eat' their food, they're going to totally love the brand new Kindi Kids "Snack Time Friends" dolls. Even better? There are brand new "Dress Up Dolls" they're going to love. Here's what we know so far!
Buy Now [ UPDATE 2023 ] Recently released (and most anticipated) Dress Up Dolls are officially here (including Dr Cindy Pops and Princess Donatina)! See more below.
Moose Toys is really crushing it again this year especially with these new Kindi Kids Dolls being called one of the best toys for 2023. The Christmas holiday will never be the same! These collectible dolls really are super cute, super colorful, and full of snack time surprises. Here's the deal.
What Actually Are Kindi Kids All About?
These lovable Kindi Dolls are geared towards your kiddos who are of the pre-school and kindergarten ages, especially for the little ones who may be a little nervous about having to go to school. They'll be their very first school BFFs! There are currently 4 super unique dolls to collect, all with their very own deliciously cute theme:
Marsha Mello – the yummy marshmallow cake-pop theme.
Jessicake – the delicious cupcake theme.
Peppa Mint – the sweet peppermint ice cream theme.
Donatina – the delightful donut theme.
New Rainbow Kate – the rainbow cupcake & slushie theme.
That's right, these are all really sweet treats! Their heads actually bobble (sure, it's ok to call them bobbleheads) up and down or left and right, which makes it fun for the dolls to 'talk' to each other. It's also a cool way to keep your kiddos calm. Plus, they have really beautiful giant glitter eyes!
Beyond the fact that their heads move around, they all each their special and magical Shopkins snack treat. All you have to do is place the spoon into the magical container (for example) and next thing you know a sweet treat appears! Start to feed your Kindi Kids and the treat will disappear! So cute and so fun.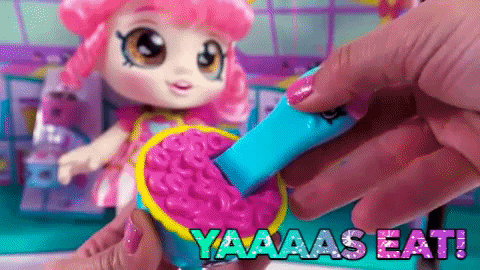 What's the Cost of These?
The suggested retail price for each Kindi Kid is currently at $24.99. Not too bad!
When Will the New Dress Up Dolls Be Released?
These are slated to be officially released online and in-stores on August 1, 2023. You can pre-order them right now! Click here to pre-order your faves now!
Princess Donatina Dress Up – Buy It Here
---
---
---
Marsha Mello Kindi Kid Doll – Buy It Here
---
Peppa Mint Snack Time Friends – Buy It Here
---
---
---
More to See:
New Blume Baby Pops are Here!
The Official Blume Doll Review!
Here's Why We Love Shopkins Real Littles
The New Luvabella Newborn Doll is Officially Here
Everything You'll Want for Christmas This Year