Just when you thought you were safe from drones, introducing the brand new Hatchimals Pixies Crystal Flyers! That's right, they're basically fairy dolls that fly. Good luck!
Every year there are new toys that are released that everyone thinks will be the big one of the year. Typically that usually is something by Hatchimals. We were initially surprised when we saw that these flyers were Hatchimals and, well, they didn't scare the life out of us like they usually do. #Progress
What are Hatchimals Pixies Flyers All About?!
If your kiddos love toys that fly and are over their drones because, well, how many videos can they really take? 10,000? They'll love the soon-to-be released Hatchimals Pixies Crystal Flyers. They're unique and super fun doll-like fairies that come in either pink or purple (so far in Series 1) and when fully charged with their USB charger they can fly all around your house. Want to see it in action? Same/same.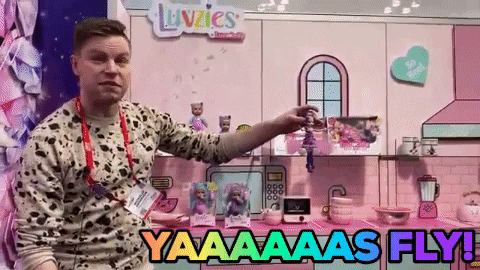 The folks over at Techlicious attended the recent NYC Toy Fair and video'd these flyers in action. They're actually pretty cool, right? Once she's charged she'll start to spin her way to freedom and thanks to her IR sensor that's on the bottom of her shoes your kiddos can use their hand to help guide her, help her fly higher, or have her come down from her wild adventure.
They even come in their own crystal egg, so there's still that retro Hatchimal tie-in, but this time around you know exactly who's inside so you get to choose if you want the pink pixie or the purple pixie. We say get both and have your kiddos have them fight in mid-air. Think of the possibilities! Oh, and did we mention it's already one of the must have toys for Christmas in 2023?!
What's This Going to Cost You?
Ok, to be honest, we were actually pretty surprised by the price. It's not that bad! The suggested retail price is just $29.99.
When is the Official Release Date Going to Be?
They surprised us and are actually being released earlier than the fall. They'll hit store shelves an online on August 19th.
Where Can You Find Them & Can You Pre Order Them?!
You're in luck because pre order actually starts right now! Pre-order yours here!
The New Hatchimals Pixie Flyer – Buy It Here
Buy Now [gkit id=11]