Now your kiddos can build their own robotic and interactive hedgehog that'll totally give Sonic a run for his money. So many puns. Introducing My Robotic Pet Tumbling Hedgehog! Here's everything we know so far.
This year the trend of building your own interactive toys continues on full steam ahead! We love a toy that helps our kiddos learn without even knowing it. Something tells us if they knew, they'd barely play. Just us? Well, now they'll be able to build their very own super cute and smart robot pet hedgehog that, well, tumbles and rolls all around with a little round of applause from you or the kids. He was recently announced at the New York Toy Fair and we are already obsessed!
How Does This Robot Hedgehog Work & What Can He Do?
The set comes with 172 building pieces (don't worry, it's for ages 7 and up)
They'll be able to assemble it so that it looks like a real tan and black little hedgehog
He (or she) comes with a bunch of sensors that are already built in so he'll be able to react to different sounds, like clapping.
Your little pet hedgehog can walk, roll, tumble, spin, bristle his spine and just basically move all around depending on your various claps.
For example, if you just clap once he'll roll into a little ball and tumble backwards. More claps mean more things and that's part of the fun!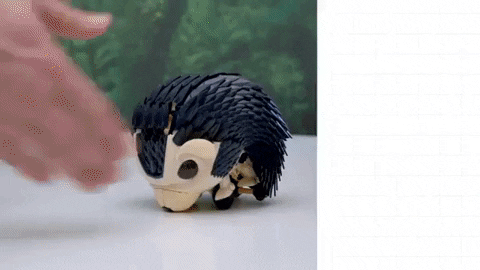 This is such a cool way for kids to learn about building, some engineering, motors, LEDs and so much more. Did we mention his eyes light up too? Even better! He's already slated to be a big toy request this season. Get him while you can!
When is the Release Date?
The official release date is August 15, 2019 and we're all totally ready. You can even pre order yours here too!
What Will This Cost You?
Believe it or not, this one is one of the more affordable robotic toys, with a suggested retail price of just $39.95.
My Robotic Pet Tumbling Hedgehog Robot Toy – Buy It Here
---
More Cool Toys This Year:
The All New Shimmer Stars are Here!
So Plumber Pants May Be the Most Fun Game For Kids This Season
Candylocks Dolls Smell as Good as They Look and Have Hair For Days
How Cute is Cubby the Curious Bear!?
Slimy Treasure X Aliens Have So Many Gooey Surprises Inside!